Spring 2023
Congratulations to Sarah Ullman, our Spring 2023 Member of the Semester! We asked her to write a blurb about herself below:
Thank you so much for choosing me to be the Spring 2023 Member of the Semester! I am currently a sophomore Psychology major that particularly interested in the clinical aspects of psychology. I am in Dr. Kim's Emotions Lab and I am so greatful for the experience. I have helped edit and present a literature review poster about the LGBTQ+ community's mental health and college campus resources at the Eastern Psychological Association (EPA). I have also coded transcripts and wrote a research paper that was just sent out to be published by a psychology journal. The research paper was on the topic of thriving older South Korean women. This paper had a strong feminist approach and helped filled in the literature gap for knowledge about older Asian individuals and Asian Americans in relation to successful aging. In my 299 research seminar class taught by Dr. Chung, I worked with real data from TCNJ's 2021-2022 Community Engaged Learning (CEL) program that is apart of the freshman first year college experience. My research focused on whether a student's gender and their field of study affected their commitment levels to future civic engagement in their communities. My research will help the alteration and improvement of the pre-existing CEL program at TCNJ. I am a Contact caller volunteer where I volunteer 24 hours every semester on the hotline. I am also an Academic and Vocational mentor for the Career and Community Studies (CCS) program at TCNJ. I love being apart of CCS because it is a wonderful opportunity to make new friendships and get more involved in the campus community. I am also apart of Circle K International, Late Night Take, and Swim club at TCNJ. For the future I am going to be a HSS and writing tutor for the next semester. I am also planning to join Dr. Kim's lab again next school year. I plan to take more clinical psychology classes and labs.
Congratulations, Sarah!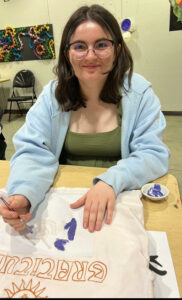 Sarah Ullman; Recipient of the Spring 2023 Psi Chi Member of the Semester Award
Fall 2022
Congratulations to Rebecca Klein, our Fall 2022 Member of the Semester! We asked her to write a blurb about herself below:
Rebecca is currently a junior studying Counseling and Clinical Psychology major with a Women's, Gender, and Sexuality minor, and she recently declared the Spanish Certificate for Counseling and Human Services. This semester, she has been a part of Dr. Chung's REACH lab, which she is excited to continue with in the spring! Additionally, she has tutored several Psychology and Spanish classes. She has also interned at Princeton Medical Institute for the past four months, where she has assisted with conducting neuropsychological screenings for clinical trials. Her future plans include applying to counseling graduate school programs next fall! Thanks for all your hard work, Rebecca!
Congratulations, Rebecca!
Rebecca Klein; Recipient of the Fall 2022 Psi Chi Member of the Semester Award